What. a. day. FIRSTS.
We went on a playdate and had a great time. (our playdate didn't make it but Lulu still loved it.) We did run into someone we had seen at Petsmart. One time we were at Petsmart and we saw this family and we walked out to our cars at the same time. One of the little girls started laughing and it was Lulu's LAUGH!!!!! I remembered the little girl and she was at the play area, today. Her mom started talking to Lulu and then I asked if her laugh was like this (insert Lulu's laugh) and she said OH YES THAT'S HER!
Amazing. Lulu woke up from her nap and said, "Mama! Mama! Mama!" First time. I almost cried. Srsly.
Then, we went to the mall. It was Lulu's first time going to a mall without a stroller. We went to get Lulu a new purse. Actually, it's her first real purse.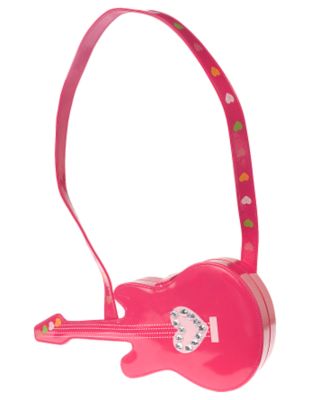 Well, once she got that thing in her hand she played guitar and would have made Daddy proud. She kept it up throughout the mall as we left. People were laughing everywhere… As we walked out to the car we made it ALMOST to the car before she tripped (I was holding her hand so she didn't technically fall. And, she got her first scraped knee! I got to use the first aid kit in the car (and the BooBooJuice) for the first time.
On the way home we stopped at the playground. When she got her first mosquito bite, we headed home 🙂
WIN WIN WIN WIN WIN:
Giveaway 6: HairbowDepot/ Etsy
Click here to win the custom Hairbow!
Giveaway 7: A custom dress from MYGLAMOUROUSBABY ON ETSY!